BIOGRAPHY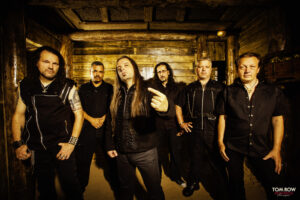 English:
The roots of HUMAN FORTRESS go back to 1999 and meanwhile, the band from Hannover can look back to an impressive history. With their song "The Dragon's Lair", produced by Tommy Newton (VICTORY), they won the Rock Hard Magazin' battle fort he best unsigned song in 2000, their debut album "Lord Of Earth And Heaven's Heir" was realeased shortly after the contest. Numerous live shows e.g. at Wacken Open Air followed as well as four more albums and several line up changes.
2012, singer Jioti Parcharidis, whose powerful voice was characteristic for the Power Metal formation, had to hand the microphon over to Gus Monsanto – due to health issues. The Brazilian one has a convincing voice as well an together with the 4th release "Raided Land", mixed and mastered by Sebastian "Seeb" Levermann (ORDEN OGAN), HUMAN FORTRESS raised attention all around the globe again and got back to their old style. After all these positive feedbacks, the band decided to keep on writing new songs for "Thieves Of The Night" and re-released their second album "Defenders Of The Crown" in the same year.
Due to the melodic hooks, the heroic hymns and powerful vocals, spiced up with royal-medieval melodies, the sound stays unique and self-reliant. After three years of creative work, the Epic Metal band is up to release their sixth album "Reign Of Gold" in late autumn 2019 with Tommy Newton in control of production. HUMAN FORTRESS also planst to get more active regarding live shows. "It is our big goal, to play more concerts and festivals", the band states. "Our booker Lucky Bob is looking forward to many requests from event promoters!"
German:
Die Wurzeln von HUMAN FORTRESS reichen zurück bis ins Jahr 1999 und mittlerweile können die Hannoveraner auf eine bewegte Bandgeschichte zurückblicken. Mit dem von Tommy Newton (VICTORY) produzierten Song "The Dragon´s Lair" gewinnen sie 2000 die vom Rock Hard Magazin veranstaltete Battle um den besten ungesignten Song, kurz darauf folgt ihr Debut "Lord Of Earth And Heaven´s Heir". Was weiterhin folgt, sind vielbeachtete Liveshows unter anderem auf dem Wacken Open Air, vier weitere Alben und diverse Besetzungswechsel.
2012 muss schließlich Frontröhre Jioti Parcharidis, dessen kraftvolle Stimme charakteristisch für die Power-Metaller ist, das Mikrofon aus gesundheitlichen Gründen endgültig an Gus Monsanto weitergeben. Der Brasilianer verfügt über ein ebenso überzeugendes Organ und zusammen mit dem von Sebastian "Seeb" Levermann (u.a. ORDEN OGAN) ausgeführten Mix und Mastering bringt die vierte Veröffentlichung "Raided Land" die Epic-Rocker wieder auf den Radar der Fans zurück und bestätigt, daß HUMAN FORTRESS ihren alten Stil wiedergefunden haben. Nach den positiven Resonanzen entscheidet sich die Band, direkt weiter an neuen Songs für "Thieves Of The Night" zu arbeiten und re-released im selben Jahr ihr zweites Album "Defenders Of The Crown".
Durch die melodischen Hooks, die heroischen Hymnen und kraftvollen Vocals, immer wieder geschmückt mit royal-mittelalterlichen Melodien bleibt der Sound abwechslungsreich und eigenständig. Nach drei Jahren kreativem Schaffens, legen die Epic-Metaller nun endlich nach und veröffentlichen im Spätherbst 2019 ihr sechstes Album "Reign Of Gold", bei dem wieder Tommy Newton an den Reglern saß. 2020 soll dann auch konzerttechnisch wieder durchgestartet werden. "Unser großes Ziel ist es, jetzt auch wieder mehr Konzerte und Festivals zu spielen", bekräftigt die Band. "Unser Booker Lucky Bob freut sich über zahlreiche Anfragen seitens der Veranstalter".
CD's:
"Lord of Earth and Heaven's Heir" – 2001
"Defenders of the Crown" – 2003
"Eternal Empire" – 2008
"Lord of Earth and Heaven's Heir (Re-Release)" – 2013
"Raided Land" – 2013
"Thieves of the Night" – 2016
"Defenders of the Crown (Re-Release)" – 2016
"Reign of gold" – 2019